Quick rundown of the WikiPakk Page Tree, Breadcrumb and Page Tree Editor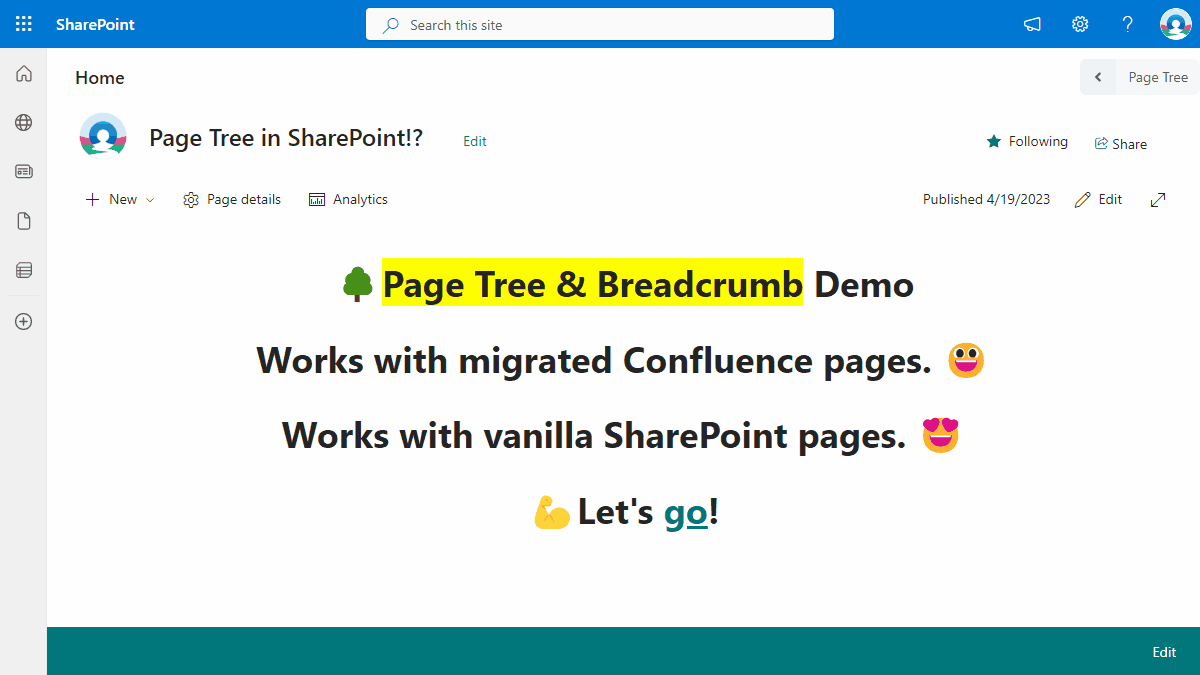 Adding WikiPakk to any SharePoint Site
The WikiPakk page tree and breadcrumb can be added to any site, once it has been installed in the tenant. This video shows how to add WikiPakk to a SharePoint site.
Reordering and Nesting Pages in the Page Tree Editor
The WikiPakk page tree editor allows for editing of the page hierarchy. Order pages and create a hierarchy by dragging and dropping pages.
This video shows how the page tree editor works, and how pages can be ordered and nested.
Auto-Nesting of New Pages
Newly created pages are automatically added to the page hierarchy. When you are on a SharePoint page and create a new page, the new page will become a child of the current page. Automatically.
This video demonstrates how newly created pages are integrated into the page hierarchy.
Multilingual Page Titles
You can create translated pages with out-of-the-box SharePoint functionality. The page tree of WikiPakk knows those pages and shows the right language for the current page.
This video shows how to switch on the multilingual pages feature of SharePoint, how to create page translations, and how the page tree takes care of showing translated page titles.
Page Permissions and Page Hierarchy
You can restrict page access in SharePoint with item-level permissions. Those pages will then only be visible to certain people. The page tree has to cope with that.
This video shows how to restrict access to a SharePoint page and how the page tree looks for different people.
This video also shows how item-level permissions can be confusing. I left the parts in where I tripped myself by restricting access to the site homepage 😆
Licensing WikiPakk
This video shows how to apply the WikiPakk license key.
Installing WikiPakk from the Microsoft App Store (AppSource)
WikiPakk is available in the Microsoft Store "AppSource". It has to be installed to the SharePoint tenant app catalog so that site owners can start using WikiPakk.
This video shows how a site owner can request the installation of the app, how a SharePoint admin can approve the app, and how the site owner then can add the app to their site.